Offices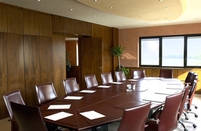 From Offices and Estates to Schools, Medical Centres and Hotels, whatever your business, organisation or sector, we'll adapt our cleaning services to match your needs. First, we'll discuss your requirements. Then our team will Design and Deliver a Solution that meets them.
Over the years, we have handpicked our cleaning team members for their exemplary attitudes, Commitment to service and Reliability. Their work is Monitored continually to ensure it meets your needs and our own demanding standards. What's more, we invest in training, overseeing and motivating our employees.
Quality cleaning is about much more than polished surfaces and gleaming environments. It's about delivering cleaning services that promote a Healthy and Productive workforce. For over 15 years we have applied our energy, efficiency and attention to detail to all our cleaning solutions.
At Donnington, we're never satisfied with doing our best. When it comes to cleaning your sites, we're always striving to do better. This means that, as a client of ours, you will experience Superior Results, continually improving services, and an environment that promotes a Healthy, Happy and Productive workforce.
Donnington Clean in the office doesn't stop at desk cleaning and bin emptying. Our expert cleaners ensure that all areas of your office are kept tidy, preparing meeting rooms and reception areas for the next day, with care and attentiveness.
Office cleaning case study - Read more»
---
Should you require further information please get in touch by calling on 0800 107 6077 or by e-mailing us at info@donningtonclean.com