Restaurants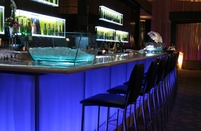 Cleaning done with taste
Research has shown that one of the most common reasons why people decide not return to a restaurant is the condition of their washrooms. We know of people who won't eat at a reastaurant until they have seen the state of the loos, deciding to stay or leave based purely on that criterion.
Customers and employees judge your ability to manage your restaurant based on the condition of your dining room and kitchen, too.
Donnington keeps your washrooms spotless, equipment, hoods and exhaust systems grease- and rust-free, and your floors spick and span.
Professional cleaning means:
Enhanced commercial kitchen equipment performance

No unexpected tastes or smells in food

Emhanced restaurant safety

Increased kitchen staff efficiency and performance

Improved appearance

Fire and Safety Compliance

Insurance Compliance
That's worth more than any cleaning contract in the world.
---
Should you require further information please get in touch by calling on 0800 107 6077 or by e-mailing us at info@donningtonclean.com