Hotels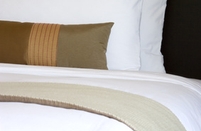 The cleaning service
We understand that cleanliness and good housekeeping are critical to the hotel business and we have years of experience in providing managed cleaning services for leading members of the hotel industry.
Reliability, as well as thorough hands-on management of our service is how we have won business with leading hoteliers.
Whether you run a small boutique hotel or a large international chain, we have the operatives, service and management to suit you.
---
Should you require further information please get in touch by calling on 0800 107 6077 or by e-mailing us at info@donningtonclean.com